Position II
A pilot line for the next generation of smart catheters and implants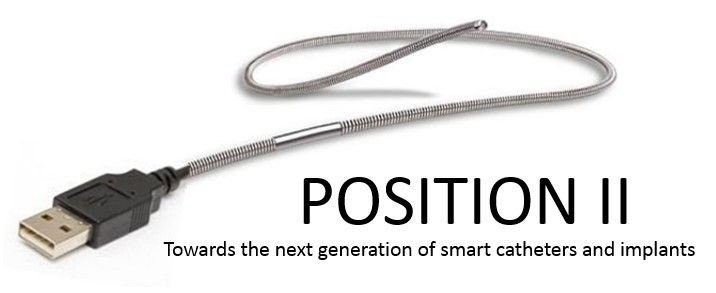 Funding:
H2020-ECSEL-2017-1-IA-two-stage (Funding reference: ES2ECS17103)
About 10% of the western population will at a certain stage in their life undergo angioplasty (stent) surgery, treatment of an arrhythmia or a heart valve replacement. Fortunately, most of these interventions can be carried out using minimally invasive procedures that are assisted by a host of smart imaging and sensing catheters that are the "eyes and ears" of the surgeon directly at the point of intervention. Essential and life-saving as these smart instruments are, they are without exception manufactured using outdated and obsolete technology. It is the ambition of the POSITION-II project to realize a breakthrough in this impasse situation by the introduction of open technology platforms for: miniaturization, in-tip AD conversion, wireless communication, MEMS transducer technology and encapsulation. The availability of these open platforms will allow manufacturers to improve the performance of smart catheters at a lower cost. Additionally, it will enable the development of completely new smart minimally invasive instruments.
MCS is involved in the development and testing of wireless communication for bioelectronic implants as well as the development of new fail-safe biocompatible soft encapsulation procedures for these smart implants that will be tested and validated both in vitro and in vivo. The end result of this work package will be a demonstrator for a chronic headache therapy implant, designed to target cluster headache and chronic migraine.
Media:
Main project partners:
Philips Electronics Nederland B.V., Eindhoven; Delft University of Technology; Salvia Bioelectronics B.V., Eindhoven; Reden B.V., Hengelo; Fraunhofer IZM, Berlin; Osypka AG, Rheinfelden; Cortec GmbH, Freiburg; Instituto De Engenharia De Sistemas E Computadores, Investigação E Desenvolvimento Em Lisboa (INESC-ID), Lisbon; Hungarian Academy of Sciences Centre for Energy Research, Budapest; Pázmány Péter Catholic University (PPCU), Budapest