Nachruf / Obituary Dr. Thomas Meyer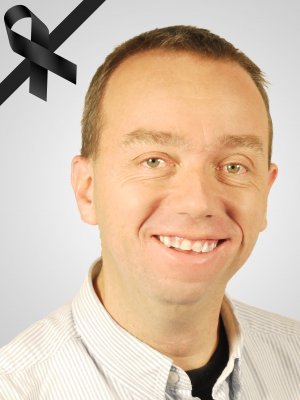 Dr. Thomas Meyer,
geboren am 4.1.1971, gestorben am 22.Oktober 2017.
In tiefer Trauer geben wir davon Kenntnis, dass Dr. Thomas Meyer plötzlich und unerwartet vergangene Woche verstorben ist.
Dr. Meyer war uns viele Jahren ein sehr geschätzter Mitarbeiter und Kollege.
Mit ihm ist ein außergewöhnlicher Mensch und eine große Persönlichkeit von uns gegangen.
Dr. Meyer war seit 2002 bei Multi Channel Systems angestellt. In seiner Funktion als Senior Application Scientist Cardiac Electrophysiolgy hat sich Dr. Meyer mit seinem vorbildlichem Engagement, seinem ausgeprägtem Verantwortungsgefühl und seiner starken menschlichen Ausstrahlung innerhalb und außerhalb unseres Unternehmens großes bleibendes Ansehen erworben.
Durch seine profunden Kenntnisse und seine zuverläßige wissenschaftliche Arbeit genoss er außerordentliche Anerkennung in seinem Fachbereich auf internationaler Ebene, weit über unser Unternehmen hinaus. Unsere Firma wird ihm immer zu großem Dank verpflichtet sein.
Sein fröhliches und lebensbejahendes Wesen war uns immer ein Quell der Inspiration, seine große Lust am Reisen und somit die Entdeckung immer neuer Horizonte war sein Lebensinhalt und seine große Freude.
Sein Fortgang ist ein großer Verlust für uns alle. Er ist von uns gegangen, aber nicht aus unseren Herzen.
Unser tiefes Mitgefühl gilt seinen Eltern, seiner Schwester und allen Angehörigen.
Wir betrauern den Tod unseres Mitarbeiters, Kollegen und Freundes.
Falls Sie gerne eine persönliche Nachricht an seine Eltern oder seine Schwester schicken möchten, verwenden Sie bitte unsere Firmenadresse z.Hd. Herrn Boven. Wir werden sicherstellen, dass Ihre Nachricht weitergeleitet wird.
MCS Geschäftsleitung mit allen Angestellten
Dr. Thomas Meyer,
born on January 4, 1971, died on October 22, 2017.
It is with great sorrow that we have to inform you about the sudden passing away of Dr. Thomas Meyer last week.
Over many years Dr. Meyer has been a highly esteemed employee and colleague.
With his passing away we have lost an exceptional person and a great personality.
Dr. Meyer has been with Multi Channel Systems since 2002. In his function as Senior Application Scientist Cardiac Electrophysiology Dr. Meyer has earned very high and lasting reputation within and outside of our company. He did this all with his exemplary engagement, strong sense of responsibility and his great human touch.
With his profound expertise and his reliable scientific knowledge he enjoyed huge recognition in his field at an international level – far beyond that of company. Our business will always be in-debt to him.
His joyful and life-affirming nature has always been a continous source of inspiration, his passion for travelling and thus the discovery of new horizons has been his life and his greatest joy.
His passing away is a very big loss for all of us. He is gone, but we will never lose him from our hearts.
Our deepest sympathy goes out to his parents, his sister and all relatives.
We mourn the death of an employee, a colleague and a friend.
If you would like to send a personal note to his parents and his sister, please send to the company address for the attention of Mr. Boven and we will make sure that your note is delivered.
MCS executive management and all employees