Society of Toxicology's (SOT) Annual Meeting 2021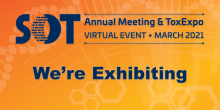 Conference Days:
Mar 12, 2021

to

Mar 26, 2021
Equipment is shown by:
Harvard Bioscience Ephys brands and Data Sciences International (DSI)
The Virtual 2021 SOT Annual Meeting and ToxExpo will occur March 12–26, 2021 at US Eastern Standard Time. With live, semi-live, and on-demand offerings, attendees will have access to 65+ Scientific and Featured Sessions, dedicated networking spaces to connect with friends and colleagues, and service and product providers through the ToxExpo exhibits.
Whether you're focused on the scientific presentations or want to interact with colleagues from around the world, the SOT Virtual Meeting will provide a multitude of experiences—all based on the needs and desires of our diverse community.
While you will be encouraged to visit the ToxExpo between 8:30 am and 10:00 am (US EDT) and 4:00 pm and 5:30 pm (US EDT) from Monday to Thursday during both weeks of the meeting to interact with us exhibitors the Virtual ToxExpo will remain accessible continuously throughout the whole meeting.
Together with DSI we will present our electrophysiology solutions headed up by MEA Xpress, our solution for completely automated high throughput electrophysiology featuring liquid handling and recording in one system. We are looking forward to e-meeting you!
Have a look at what else is going to be in store for you!