Exciting workshop on neuronal applications on MEAs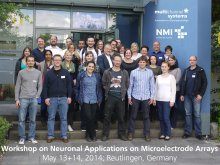 Our two-day workshop this week was a full success. 19 participants from all over Europe visited us here in Reutlingen to learn more about neuronal applications on microelectrode arrays.
The workshop began on Tuesday morning with introduction sessions in MEA technology for beginners and in Matlab analysis for more advanced users. After a typical swabian lunch and a tour though the MCS building, the participants continued to the laboratories of the NMI (Natural and Medical Sciences Institute), where they learned how to prepare and record
acute hippocampal slices,
organotypic brain slices,
ex vivo retina,
DRG neurons, and
neuronal cell cultures.
 
The first day ended with a tasty barbeque with German beer and many discussions for exchange of experiences and tips and tricks.
On Wednesday morning, the participants got to know more departments of the NMI and saw, where the MEAs are manufactured and what options for custom MEAs are possible. After another lab session, where everybody had the opportunity to see another application, we went for lunch to strengthen for the last session: Data analysis with MC_Rack. Our application specialist Dr. Frank Hofmann explained what to do with the successfully recorded data.
In the afternoon, everybody returned to their labs, full of new input and ideas.
We want to thank all the participants for joining us for this workshop! It was great having you here and we are looking forward to seeing you again at the MEA Meeting in July or at one of our next workshops.