Reaching for the Stars – Multi Channel Systems MEA2100 and space research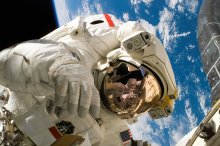 Science and Ingenuity Meet Space Travel
Valuable insights into human health do not only come from Earthbound laboratories. Researchers have also sent subjects into outer space to better understand various aspects of health for astronauts and the general public. April is recognized as NASA's Month of Ingenuity, and our teams at Harvard Bioscience are proud to support research being conducted in space. Below is an overview of three different initiatives where our Multi Channel Systems, DSI, and Harvard Apparatus solutions enabled critical advances in space research.
MCS in Space
This year, three teams including the groups of Dr. Christian Liemersdorf at German Aerospace Center's Institute of Aerospace Medicine (GAC), Prof. Dr. Volker Busskamp at University Hospital Bonn (UKB) and Prof. Dr. Sherif El Sheikh from TH Köln - University of Applied Sciences in Cologne will begin experiments to understand the effects of gravity (or the lack thereof) on neuronal activity and network dynamics within the brain.
The impact space missions have on the health of astronauts' brains has remained largely unexplored. Behavioral analysis and EEG readings support the theory that changes are occurring. However, insights at the cellular level have not been possible. Approaches with sharp patching set ups had been unsuccessful and in vivo studies are currently out of reach, which is why MEA electrophysiology opens new alternatives.
In several experiment campaigns, the team is testing how microgravity (weightlessness) and hypergravity (increased gravitational load) affect neuronal development as well as activity in human and animal cell models. Electrophysiological stimulation and recording will be performed on primary murine neurons and hiPSc-derived neurons during several experiment campaigns on gravity research platforms. Microgravity conditions cannot easily be assessed on Earth, which is why highly complex microgravity-platforms are employed including sounding rockets, drop towers, parabolic flights, and large (human) centrifuges.
These experiments are conducted to answer research questions that we have been unable to assess using conventional techniques. Neuronal activity in space might be altered profoundly compared to life on Earth. Thus, spontaneous as well as evoked synaptic signaling will be measured. Further, countermeasures against the detrimental effects of microgravity will be assessed, such as hypergravity and pharmacological intervention with novel Ketamine-Derivatives enhancing synaptic plasticity.
The team created an engineering and biological masterpiece, integrating and interfacing with the MCS MEA2100 2x60 system. They shielded the system from temperature fluctuations, electromagnetic interference, and mechanical strain, while ensuring optimal life-supporting conditions for cellular systems during the experiments.
DSI in Space
In 2013, DSI collaborated with the French CNES and Russian Space Agency on a one-month space flight experiment where cardiovascular endpoints were monitored in mice. The aim of the experiment was to elucidate cellular and molecular mechanisms, underlying the adaptation of key physiological systems to long-term exposure in microgravity. View the full publication here.
The collaboration continues as the team prepares for another launch in 2022 or 2023. This time, cardiovascular endpoints, leg EMG, temperature, and activity will be monitored in mice to better understand the effects of cosmic radiation and space flights on the body.  Learn more here.
Harvard Apparatus in Space
On February 20, 2021, the NG-15 Antares/Cygnus was launched on a resupply mission from the Mid-Atlantic Regional Spaceport's Pad-0A at NASA's Wallops Flight Facility on Wallops Island, Virginia. As part of an ongoing commitment, U.S. companies partner with NASA on cargo resupply missions for the International Space Station (ISS)—the only lab in space. Each mission delivers game-changing experiments that increase NASA's ability to conduct new investigations, many of which focus on better understanding how humans can adapt to long-term space travel. 
On this particular mission, Harvard Apparatus syringe pumps were included to measure muscular strength in C worms in an effort to better understand muscle atrophy. Due to its simple genetic model, the C worm offers a high-throughput platform to identify molecular mechanisms causing loss of muscle strength. This data can be helpful with the development of interventions, including pharmaceutical, to ameliorate declines in muscle strength—whether stemming from diseases, aging or inactivity on earth, or resulting from atrophy in space. To learn more about the science on this mission, including the C worm study, check out this video.
We look forward to seeing the results of these and future missions in outer space.